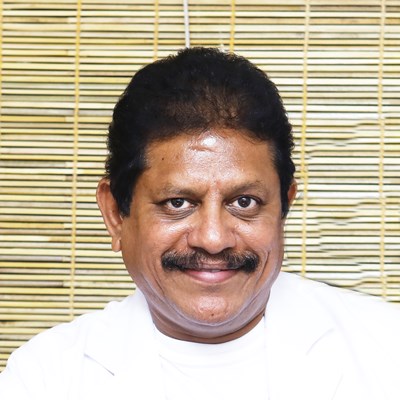 Dr. Krisshna Kumar KS is a Cosmetic & Family Dentist, specialized in Dental Lasers, Root Canal Treatments(RCT), Teeth whitening, Tooth colored fillings, Periodontal treatments, Invisalign, Crowns, Implants, Implant restoration and TMJ / Orofacial pain management since 1994.

Academics:
▪ Formely worked as a lecturer in Rajas Dental College and Hospitals.
▪ Presently holds the postion of ADJUCNT faculty in university de Valles, Andorra.
▪ Diplomate Neuromuscaular orthodontics and GnatologyAlbenga Italy.
▪ Fellow Nobel Biocare.
▪ Fellow Academy of Dental Specailities in Endodontics.
▪ Diploma In Laser dentistry Genova Italy.

Achievements:
▪ An active member of Indian Dental Association.
▪ Held position of treasurer IDA Kanyakumari Branch, 1995.
▪ Executive member IDA Trivandrum from 1996, treasurer in 1998.
▪ President 2006 and 2012 IDA TVm.
▪ Managed professional protection scheme of IDA kerala state as TVM representative for 4 years.
▪ Presently holds the post of Asst Secretary IDA Kerala State from 2016.
▪ Did presenation on Laser and Implant International Conference held in Agra.
▪ Presentation on Lasers in Asia Middle East Dental Summit in Dubai.
▪ Official speaker Sensodyne and Sun Pharma.
▪ Faculty IDA Kerala State.
▪ International trainer for Biolase.

Awards:
▪ Best student award 1993 JKKN Dental College
▪ Got the best award for membership growth and best PPS rep of state 2004-2005.
▪ Presedential award for best project kerala state 2004-2005.
▪ Magazine editor 1992 JKKN Dental College.
▪ Lions club award for meritorious service to the community for cleft palate and lip correction project 2005-2006 which benefitted 186 patients.
▪ Best professional performer award from JKKN dental college old students association 2012.
▪ Best paper presentation on Lasers in General practioner category, Cannore IDA Kerala State Conference.

Membership:
▪ Indian Dental Association.
▪ International association of Orthodontist.
▪ American dental Association.
▪ International college of Neuromuscaular Orthodontics.